By Pakistan Trade Union Defence Campaign (PTUDC)
Pakistan Trade Union Defence Campaign (PTUDC) organised more than 50 programs, seminar and rallies all across Pakistan, including more than 7 activities in Pakistan-held Kashmir, and participated in dozens of others to pay tribute to the Martyrs of Chicago. The programs also focused on the problems faced by the workers in Pakistan and elsewhere and spread the message of Revolutionary Socialism.
---
Karachi
Karachi is the Petrograd of Pakistan, It's most industrialized city and correctly dubbed as City of Lights. Despite the 42 Centigrade temperature different rallies and marches were carried to commemorate May Day including Karachi Press Club, Karachi Union of Journalists, APink, Javed Press Union and other journalist organizations, Pakistan Trade Union Defence Campaign (PTUDC), National Trade Union Federation, State Bank Democratic Workers Union, National Labour Council, PC Hotel Workers Union, Home Based Workers Federation, Railway Workers Union, PILER, DSF, RSF, JKNSF, Women Democratic Front and Pakistan Trade Union Federation.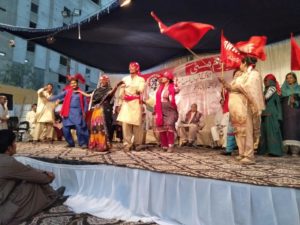 After the various rallies and jalsas, a joint gathering of the workers was worthy of the evening at Karachi press club. A book stall was arranged by PTUDC containing Marxist literature, fortnightly The Struggle, Mazdoornama and leaflets. The stall and surrounding were busy and kept the attendant's focus. During the program worker's songs, trends and theatre were presented. Khursheed Abbasi, the famous journalist of Daily Jang performed the duties of stage secretary while the special guest was Raza Rabbani and Justice Rashid A. Rizvi presided the program. Other speakers includes Majjid Memon from PTUDC, General Secretary State Bank Union Liaqat Ali Sahi, Qadir Khan Mandokhel from Railway Workers Union, Nasir Mansoor from NTUF, General Secretary HBWWF Zahida Khan, General Secretary Awami Workers Party Akhtar Hussain, Kaneez Fatima, Karamat Ali from PILER, Faisal Edhi, WDF's organizer Abida Ali, Naghma Shaikh from DSF, Shakeel Ahmed from Daily Jang Union, Habib Jan from Liyari and others.
PC Karachi Worker's Rally
Keeping the tradition of years, PC Hotel Karachi Workers' Solidarity Committee took a rally on the 30th of April from Karachi Press Club to Shahin Complex. Representatives of various trade unions, civil society, lawyers, teachers, human rights organizations and other workers, PTUDC also joined the rally in solidarity with workers. During the rally, the workers chanted slogans in favour of PC workers. At the end of the rally, the rally was adopted as a Jasla and addressed by workers' leaders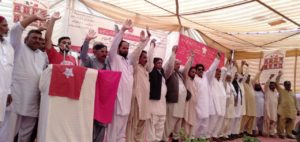 Railway Workers Union Karachi
A great gathering held outside the Karachi cant station to pay tribute to the martyrs of Chicago by Railway Workers Union. Thousands of workers from Khokrapar, Mirpurkhas, Badin, Muttali, Hyderabad, Kotri, Jang Shahi, Washing Line Yard, Landhi, Kemari and Karachi City participated. The ceremony has guests including Chief Minister Sindh  Murad Ali Shah, Advisor Information Sindh Murtaza Wahab, Railway Workers Union leader Qadir Khan Mandkhel, Mir Azam Khan Boneri, Mohammad Arif Mashwani, Mohammad Iqbal Tanoli, Mohammad Junaid Awan, Ghulam Abbas Leghari and other.
Home Based Women Workers Karachi Rally
The "Working Women's Rally" was arranged on May Day, organized by Home Based Women Workers. The rally started from Regal Square. The rally was led by Sabha Edhi from Edhi Foundation and General Secretary HBWWF Zahra Khan. The rally was joined by a large number of home-based working women including areas and factories from all across the Sindh. The rally members raised banners, play cards and red flags in favour of their demands.
It was the first time that the working women marched in Karachi pay tribute to Chicago workers and for their rights. At the end of the rally, Zarra Khan from HBWWF, Shakila Khan from Bangle Workers Union, Saira Feroz from United Home Based Garment Workers Union and Saba Faisal Edhi from Edhi Foundation spoke to the marchers.
Quetta
May Day was celebrated in Quetta, Balochistan with great zeal and fervour. Two huge rallies were organized, one by Pakistan Worker Confederation Balochistan and the other by Pakistan Worker Confederation. The allied organizations in Pakistan Workers' Confederation Balochistan included Pakistan Worker Federation, Muttahida Federation, Balochistan Workers Federation, Pakistan Trade Union Defense Campaign, PTCL Employees Union and Martin Dao Marker Workers' Union.
The other rally organized by Pakistan Workers' Confederation Balochistan started at Chaman Paatak. The rally marched through different parts of the city and finally converged on Metropolitan Corporation' garden in a huge public gathering.
The workers were waving red flags and raising slogans against the anti-worker policies of the present regime. The chief guest of this public gathering was Hassan Baloch, president of Balochistan Workers Federation. The other speakers included, Mama Salam Baloch from Pakistan Worker Confederation, Muhammad Hanif from Agriculture Workers' Union, Ali Raza Mongol from Paramedical Association, Manzoor Baloch from Martin Dao Marker Union, Safdar Kurd from Qesco Union, Abdul Hakeem from WASA Union, Nazar Mengal from PTUDC, Naik Muhammad from Communist Party and Dad Muhammad Baloch from APCA. All the speakers condemned the anti-worker class and pro-imperialist policies of the present government and stressed the need to overthrow capitalism for workers' salvation.
Mastung
Pakistan Confederation in collaboration with different trade union commemorated the May Day activity with a massive rally that strolled the main market and ended up at Town Hall as a mass meeting. Mir Ahmad Baloch presided this public meeting while social activist Sikandar Malazai, Chairman BNP Manzoor Baloch, Haji Asghar Bangalzai from APCA, Leader of PTUDC Abdullah and Orangzaib from Bar Association spoke to the audience.
Hyderabad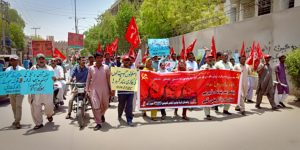 The tribute to the great struggle of Chicago's martyrs on International Workers Day a rally was arranged by PTUDC and Treet Corporation Employees Union from Hyder Chowk to Press Club. Other unions including NADRA, OGDCL, APCA, WAPDA Hydro Union, National Telecommunication Employees Unity, Show Makers Association, RSF, Railway Workers Union, BNT and workers, youth and women from different walks of lives participated in the rally. The rally was presided by General Secretory PTUDC Advocate Nisar Chandio and Shaikh Adnan from Treet Employees Union. The participants chanted slogans against the anti-labour budget, privatization, unemployment, load-shedding, poverty and inflation. The rally started from Hyder Chowk and reached press club Hyderabad, where leading people addressed the rally, including Qurban Bhand from Railway Worker Union, Akber Bhutto from OGDCL, Salman, Munwar, and Shaikh Adnan from Treet Employees Union, Advocate Nisar Chandio and Rahul from PTUDC.
Mirpur Khas
On the occasion of International Workers Day, PTUDC, People's Liberation Bureau Mirpurkhas, Civil Society, Clerk Association, Teachers Association, Railway Workers Revolutionary Union, Hari Committee, Unemployment Youth Movement (BNT), Revolutionary Women Wing, Bhutta Workers , Municipal Union, State Life Agent Employees Union of Pakistan, Specialist Alliance, Para Medical Staff Association, Dalit Movement and other organizations took rally from Post Office to Mirpur KhasPress Club to tribute the great struggle of Chicago's martyrs. Prashotham, Muhammad Hussain, Khalid Hussain, Ali Nawaz Khaskheli, Ramesh Kumar, Taj Baloch, Radha Bhel, Nimas, Amir Slam, Abdulstar Malik, Tahir Sheikh, Ghulam Mohammad, Allah Taipei Special Khali, Babu Lal Bhail, Ghulam Rasool Soomro, and the caravan of the workers attended the rally.
Jamshoro
A seminar was organized by the PTUDC and Sindhi Literature Sangat to honour the great struggle of Chicago's martyrs. Special guest was PTUDC leader Nisar Ahmad Chandio, while Nathu Mal presided the seminar. In the seminar the details of May Day were discussed, also highlighted the problems of workers in the current scenario. The seminar was addressed by Nisar Ahmed Chandio, Nathu Mal, Rahul, Walhar, Haji Khan, Abdul Khaliq and others while Sohail Joyo recited the revolutionary poetry.
Mirpur Bhathoro
On the occasion of 1st May, PTUDC and BNTorganised a rally from Chowk Mirpur Bhathro. In which people belonging to peasants, workers, social organizations, journalists, students and other people were fully involved. When the Rally reached the bus stop there was a ritual where Ghulam Hussain Malam, Jabbar Zounr, Sikandar Zounr addressed the rally.
Dadu
PTUDC organized May Day rally in collaboration with other trade unions and labour associations from Highways Labour Hall to WAPDA Latif Labour Hall. The Rally was joined by many trade unions and workers. The participants chanted slogans against inflation, unemployment, privatization and load shedding. At press club Dadu, the rally took shape of the massive public meeting whose duties of stage secretary were performed by Sadam Khaskheli while Majid Jathyal from Pakistan Para-Medical Association, Gulam Nabi Lashari from Highways Labour Union Khairpur Miras, Inayat Jamali from Primary Teachers Association, Abdul Hameed Jamali and Zameer Ahmad Korejo from WAPDA Hydro Central Labour Union, Ijaz Bhagio from Be-Rozgar Naojawan Tehreek (BNT), Abbas Ali Wagio from Riksha Union, Highways Labour Union Leader and District President PTUDC Muhammad Morial Panwar spoke to the marchers and paid tribute to the struggle of Chicago Martyrs and condemned the ever growing inflation, unemployment and the exploitation of Capitalism. The Rally dispersed at WAPDA Lateef Labour Hall.
Johi
PTUDC organized a public meeting at press club Johi to commemorate 1st May. Many Labour leaders, organizations and workers joined the event to pay tribute to the struggle of workers. Khadim Khoso from BNT opened the ceremony by welcoming the guests. The ceremony was presided by Ijaz Bhagio. Shabir Rustmani from Tailors Union, Chairman Municipal Committee Naqad Thaheem, Hameed Laghari from Hair Dressers Union, Ameen Jamali from Primary Teachers Association, Anwar Siyal from PTUDC and Ahmad Dahari participated and spoke to the participants and highlighted the importance of International Workers Day. Among youth Ijaz Jamali, Waheed Thaheem, Ahmad Jamali, Lal Bakhsh Bhato, Akbar Leghari and Sadam Khaskheli spoke and charged the participants with revolutionary enthusiasm. Khadim Hussain Jaskani, Liaqat Ali Liaqat, Khalil Arif Somro, Usman Faqeer, Gulam Haider Ghayal recited their revolutionary poetry. While Ameen Leghari chaired the event.
Nawab Shah
Mazdoor Ithad Nawab Shah and PTUDC organized a rally to commemorate May Day. The rally started form Mazdoor Ithad office to press club. The marchers were raising play cards and red flags. At press club labour leaders made speeches. PTUDC Provisional President Anwar Panwar, President Mazdoor Ittihad Sagar Hanif Lakho, Wazir Rind, Ijaz Shiekh, Asif Somro and Anwar Chandio spoke to the participants. They vowed to carry forward the mission of Chicago workers and end exploitation and misery of humanity under capitalism.
K.N.Shah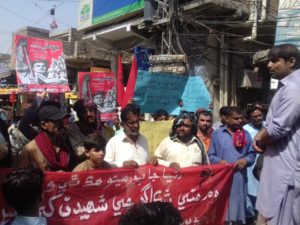 May Day commemorative rally carried from Bloch Petroleum to Press Club K. N. Shah in which different trade and labour unions and workers participated. Participants chanted slogans paying tribute Chicago Workers and against the exploitation of workers, inflation, unemployment and privatization. Taxi Driver Union Leader Hussain Bakhsh Landar, Labour leader Wazir Gadi, Peasant leader Zulfiqar Babar, BNT leader Esa Chandio, Nizam Chandio, Rashid Bhagio and Majid Bhagio spoke to marchers and vowed to carry forward the mission of workers.
Shadadkot
More than twenty different labour unions including Inqlabi Hari Jeddojehed (Revolutionary Peasants Struggle), Beri Workers Union, Saran Workers Union, Construction Union, Municipal Union and PTUDC organized a combined mass meeting at labour hall Shahdadkot. Federation President Urs Salero, Sikander Salero and Gulam Ullah Salero from PTUDC, Satar Manganhar and Qadir Bakhsh from Inqlabi Hari Jeddojehed, Gul Jan, Wahab Pandrani, Gulam Rasool and Gulab Jan from Raees Factory spoke to participants. They paid tribute to the Chicago workers and demanded the end of exploitation and misery of workers.
Sukkur
In Sukkur, International Workers Day celebrated with revolutionary zeal and enthusiasm. The main rally was organized by Pak Hydro Electric Union and Pakistan Workers Confederation with the collaboration of Pakistan Motor Works Association Sukkur, Para-Medical Association Sukkur, Pakistan Workers Federation, Railway Mazdoor Union, Irrigation Union, CBA PTCL Union, Municipal Labour Union, Sui Gas Union, Revenue Department, District Council, Social Security Department and PTUDC, which was initiated from Hira Medical Complex.
Rally strolled through Teer Chowk and Barrage Road and reached Clock Tower, where transformed into a massive public meeting. And Syed Zahid Shah and Abdul Haleem Akhwand from SEPCO Sukkur, Ali Mardan Sheikh from Sukkur Municipality, Khadim Hussain Sheikh from SSG, Ameer Ali Sheikh from Revenue Department, Shafi Allah Kalor from PTCL, Abdul Majid Jaskani from District Council, Kadim Hussain Khoso from Irrigation Department, Sameena Abbasi from Social Security Department and Saeed Khaskheli from PTUDC made speeches and focused on the unity of workers. Comrades from PTUDC also distributed leaflets and Mazdoor Nama among the participants.
Sadiqabad
May Day rally started from Bagh e Bahesht (Heaven Garden) that marched JWD Sugar Mills Unit 2, Reliance Mills, Fatima Fertilizer Company, Fauji Fertilizer Company and greeted by different Labour organizations at Ghosia Square. The marchers chanted slogans against Privatization, Capitalism, Feudalism, contract structures and anti-labour laws. They were holding posters, banners and play cards in support of workers' demands. Then Rally proceeded through Hospital Square, Railway and transformed into a mass meeting at Bhutto Square. During the rally proceedings, people of Sadiqabad set up water and juice stalls for the marchers at different points.
Sabah Masood performed the duties of stage secretary for the rally turned public meeting. Whereas Central General Secretary PTUDC Qamar Uz Zaman, General Secretary Employees Union CBA Fauji Fertilizer Nawab Din Lashari, President Inqlabi Rikshaw Union Nadeem Butt, Vice President Provincial Highways Union Rahimyar Khan Punjab Habib Chadio, President Painters Union Abbas Taj, General Secretary Action Committee All Contractors Employees Union Fatima Fertilizer Company Jahanzaib Babar, President District Bahawalpur Teachers Union Nazir Gondal, President South Punjab Peoples Youth Organization Khawar Bajwa, Social activist Pir Ji Muhammad Ashraf, Masood Afzal from PTUDC, Adv Syed Mukhtar Ul Hassan Gul, Adv Khalid Bin Saeed, Sher Khan from JDW 3 Ghotki, Hafiz Asif Nadeem, Tehseen Irshad from Open Line Staff Association Railways, Umer Rasheed and Nadir Gopnag from Revolutionary Students Front (RSF) spoke to the workers.
The speakers demanded that the labour and safety laws must be implemented, Minimum wage should be equal to 10gr Gold and adjusted to inflation, elimination of the contract system and all employees must be regularized permanently according to the Supreme Court of Pakistan's verdict, Employees Social Security and Old Age Benefits must be registered through CNIC in NADRA. The public meeting also unanimously approved a 20 points resolution that supported national and international workers movements, Paid tribute to the Martyrs of Chicago, Landhi Korangi, Colony Textile Mills Multan and other many un-named workers who sacrificed their lives in the struggle. The resolution also have points regarding the demands of workers.
In the end, PTUDC presented "Struggle Award" to the workers to acknowledge their 30 long years struggle. Syed Mukhtar Ul Hassan Gul, Abdul Sattar Sindhu, Waheed Sadique, Nawab Din Lashari, Malik Gulam Rasool, Chudary Muhammad Ashraf, Sajjan Maseeh, Muhammad Sharif, Nadeem Butt, Abdul Majeed, Habib Ahmad Chandio, Abbas Taj, Jahanzaib Babar, Masood Afzal, Rasheed Dostam, Muhammad Akbar Bhutto, Sabir Hussain, Nazir Ahmad Gondal, Naeem Ahmad Nadeem, Gowardan Ram Chohan and Abdul Ghafar Mahar were among the recipients of the "Struggle Award".
Rahimyar Khan
In Rahimyar Khan, Rallies were carried from different offices to commemorate May Day and pay tribute to the struggle of Chicago workers. Students, trade union, employees association, students organizations and social and political organizations took rallies from their institutes and departments under the leadership PTUDC and District Workers Action Committee, demanding the end of exploitation and solution for issues faced by workers and peasants. All rallies joined at City Bridge that marched around the city and ended at Railway Chowk.
The main rally was led by veteran labour leader Syed Zaman Khan, PTUDC organizer Haider Chugtai, Divisional Secretary General PPP Jawed Akbar, City President PPP Nazir Ahmad, Chairman Pakhtoon Welfare Association Adv Hassan Nawaz, Adv Naeem Mahandra, Ahmad Khokhar, Aziz Ullah Jatt, Hassnain Shah of PPP, Rab Nawaz Somro of Inqlabi Workers Union, Raees Tariq, Umair Bhatti, Izhar Ahmad, Peasant Leader MD Ganga, Shakoor Ahmad from Millat Agriculture, Malik Khuda Bakhsh, Raees Irshad from Workers Ittehad Union, Amir Manzoor, President MRDW Unilever Malik Nadeem, Sami Baloch, Sajjad Shah and Imran Arshad from Sheikh Zaid Hospital. The APCA rally joined the main rally under the leadership of Mehboob Khan and Nadeem Durani. Hassan Muavia Gopang joined with Baz e Fareed rally.  The speakers paid tribute to Chicago martyrs and vowed to fight till the end of capitalism and dawn of socialism.
Jampur
A commemoration ceremony regarding May Day was held in Jampur. The ceremony was comprised of speeches, revolutionary songs and poetry sessions. The labour camp was full of the workers and youth singing songs and welcoming the comrades and workers from nearby cities and towns. Participants travelling many miles, from D. G Khan, Talaiwala, Muhammad Pur, Kotla Deewan, Fazil Pur, Rajan Pur, Mehrewala, Hazratwala and Jampur to participate in the International Labour Day event. Workers from WAPDA, APCA, Teachers Union and other institutes and students from different college and schools participated with revolutionary zeal.
Before the start of the ceremony, a motorbike rally under the leadership of Revolutionary Students Front (RSF) strolled the whole city while chanting the slogans against inflation, privatization and capitalism. Saba Saleem, Mahnoor, and Sehrish opened the ceremony with revolutionary song and poetry. Stage secretary Bilal briefly introduced the history of May Day and invited speakers to spoke on the issues faced by the workers today. Altaf, Asif Gishkori, Abul Kareem Dareshak, Irfan Pitafi, Sattar Lund, Majeed Pitafi, Allah Baksh Baloch from Kisan Kath (Peasants Collectives), Amjad Abbasi from PPP Fazil Pur, Asad Ameen, Shaheryar Zaouq and Rauf Lund spoke to the audience.
Ali Hajana, Fayaz Bhatti, Jameel Ahsan, Muhammad Hussnain, Irshad, Razaq Saliq, Junaid Qureshi, Saleem Ansab, Zahid Mastoi and Abdul Kareem Muhsen recited their revolutionary poetry to pay tribute to the martyrs of Chicago in the poetry session.
After the ceremony, the participants marched towards Traffic Chowk, where the whole ceremony was concluded with the slogans against Privatization, Inflation and Capitalism.
Multan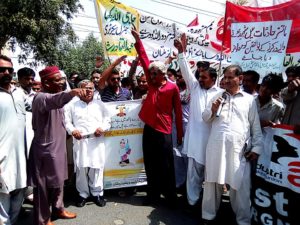 PTUDC Multan set up a camp at Nawa Shahir Chowk to welcome the May Day rallies and caravan and speared the message of revolutionary socialism among them. Comrade of PTUDC chanted slogans in solidarity with workers, The Mazdoornama and fortnightly "The Struggle" got appreciation and attention from the workers. The comrades along with rally marched towards press club, Nadeem Pasha mobilized and motivated the rally in his traditional style of slogan-chanting. Zeeshan Shahzad and Aslam Ansari from PTUDC also spoke to the audience.
Lahore
In Lahore, different trade unions, labour associations and left parties including WAPDA Hydro Union, All Pakistan Workers Federation, Women Action Front, Riksha Union, Brick Kiln Labour Union, AWP, MKP and PTUDC organized rallies and protests in front of Lahore Press Club that marched towards Charing Cross Lahore. Participants chanted slogans against privatization and inflation and paid tribute to the struggle of Chicago workers. Participants appreciated and brought Mazdoornama and fortnightly The Struggle with great enthusiasm.
Sialkot
Pakistan Trade Union Defence Campaign (PTUDC) organized a massive rally comprised of charged youth and workers to pay tribute to the struggle of Chicago martyrs at Sialkot. Rally strolled different parts of the city and ended at Allama Iqbal Square. Workers from the sports industry and leather factories, representatives from Lecturers Association, Lawyers, Students and PPP participated in the rally and chanted slogans against the government policies. At Allama Iqbal Square, District Sialkot President PTUDC Adv Nasir Butt, Leader of Lecturers Association Babar, Ansar Baghi from RSF, Malik Hassan from PPP and Adv Irfan Shah from Daska Bar Association spoke to the marchers.
Another activity was held by Forward Gear Workers Union. A massive rally was taken from Sialkot Press Club that marched and ended at Sambrial Press club hundreds of industry works and youth joined the memorial rally and chanted slogan in the memory of Chicago martyrs and against capitalist exploitation. At Sambrail Press Club President Forward Gear Workers Union Muhammad Ali Butt, General Secretary Shehzad Mushtaq, Shah Tabraiz, Qarni Zulfiqar and other labour leaders spoke to the marchers and vowed to carry forward the struggle till the end of Capitalism.
Banu
In Banu, Pakistan Trade Union Defence Campaign (PTUDC) and Peoples Labour Bureau organized and seminar on the occasion of International Workers Day. Workers, Lawyers, Students, Youth and Masses participated in the seminar in enormous numbers. The speakers of the event paid tribute to the martyrs of Chicago and shed light on the current situation. Adv Bakhtniaz Sikandri of PTUDC, Nadeem Askar of PTM, Yasmeen Safdar of PPP, Ismael from Woolen Mills and Ismael Murawat from Lucky Cement Factory spoke during the event. During the seminar, the participants were constantly chanting revolutionary slogans against privatization and capitalism.
Malakand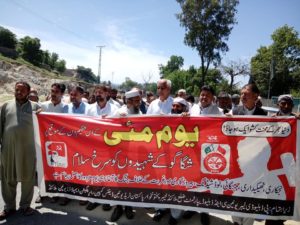 A massive rally and public meeting was held at Malakand to commemorate the May Day ceremony. Pakistan Trade Union Defence Campaign (PTUDC), Irrigation employees Union, PWD, Class IV employees union of Education Department, TMA, APCA and Para-Medical Association and worker marched from CMW colony to District Secretariat Malakand where it was transformed into a mass meeting. Provisional President PWD Gul Zamin, Provisional General Secretary Para-Medical Association Hazrat Hussain Mansoor,  Provisional President Class IV Education Department Pir Saeed and Gufran Ahad from PTUDC spoke to the audience whereas Nasir Amin performed the duties of stage secretary.  They Paid tribute to the struggle of Chicago workers and vowed to carry forward their mission until the socialist transformation of society.
Rawalpindi
A public meeting was organised by PTUDC and Municipal corporation under the title "The struggle of Chicago martyrs is also a guiding light for us today ".it started at 11 am in which leadership from- Peoples unity PIA, House Building Corporation, Awami Workers Party, Peoples Party, All Pakistan Paramedical Staff Federation. Peoples Hawkers Union Rawalpindi Cantt, Railway Workers Union CBA, APCA, Employes Worker Union Attock Oil Refinery, Democratic Workers Union state bank of Pakistan Oil Field Federation Khaur Attock, Peoples labour Bureau Punjab, RSF, POF, JKNSF, WAPDA Hydro Union-together with a Large number of the working class participated.
Speakers addressing the gathering called for workers unity and declared that only continued constant struggle is the only way to move forward. Incompetent Political leadership and its atrocities over workers has once again proved that this system has completely failed and has no solution for the problems of the working class. An organized struggle against Privatization, Inflation and Joblessness is the only way forward. In light of the coming budget which is expected to raise taxes on the working class, class struggle against Capitalism must be ignited.
Speakers list included Dr. Haseeb PTUDC,Malik Abdul Rauf ARL,Ramzan Lagari,Sohail Mukhtar and Soaib Khan Peoples Unity PIA,Owais Karni organiser RSF,Chaudary Masud ul Hassan, AWP,Arshad Khan and Shakeel Awan All Pakistan Paramedical Staff Federation, Raja Parwaiz House building Corporation,Rashid Azad PPP,Shezad Mazoor Kyani APCA, Naseem Awan Chairman Workers Union State Bank,Sardar Khuram Hawkers Union,Gulam Muhamad Naz and Raja Haroon Municipal Corporation, Mehmood ul Hassan POF Wah,Zubair Latif ,Arooba Mumtaz  JKNSF and Syed Nazar Shah People's Labour Bureau. Changez Malik (joint secretary PTUDC) was the stage secretary for the Event. The gathering dispersed after observing a rally at the end of which International was recited.
Fateh Jang
The activity started with a rally organised by  PTUDC at 9 am where workers and youth participated in a large number filled with slogans against privatization, Inflation and joblessness. The rally turned into a huge gathering when reached the Fateh Jang square. While addressing the gathering Ex-chairman Hydro Union Wapda Rawalpindi said that the present "Tabdeeli" government has made it impossible for workers to even survive. This government promised 1 core jobs but in reality, it's through workers out of the jobs through privatization. Today on Labours day we demand that minimum wage should be raised to the equivalent of 1 tola Gold price. We demand to control inflation and if our demands are not meet that time has come when workers will unite and jam the socio-political economy of this country.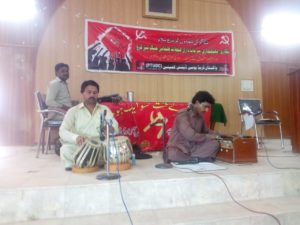 The event formally started at 12 am in the Municipal Hall Fateh Jang. Participation was around 130 people. The stage was regulated by Zubair Khurshid. Ajaz Saqi led the discussion on workers problems in today's economy. Other speakers included Malik Fateh, Omer Abdullah, Abdul Khalik Khan,Shahid Khan and Khalid Khan who in their speeches paid tribute to martyrs of Chicago. One of the highlights of the event was the participation of dozens of local poets who shared their revolutionary work. While summing up the discussion Asif Rashid organizer RSF shed light on the inevitability of a socialist revolution and workers struggle towards this goal. International was recited at the end.
Hassan Abdal
A public gathering was organized by PTUDC and Peoples Labour Bureau at 7 pm in Fuji mills ground. PPP workers, Bhata Labourers Union, Fauji Mills, Gunj Glass Factory, Margala Textiles, Khawaja Glass Factory,  Rickshaw Union and a large number of Workers and Youth participated in the event.
Central information secretary of PPP and MNA Nafeesa Shah presided the gathering. Other dignitaries included President PPP Rawalpindi Division Sardar Ashar Hayyat, President PPP Attock division Sardar Ashar Hayyat, President House Building Corporation Raja Pervez, President Peoples Unity Islamabad Ramzan Lagari, President Labourers Beuro Punjab Nazar Shah and President People's Bureau Attock Saraj Gull Khattak . Stage secretary for the event was Changez Malik of PTUDC.
Emdad Awan President Clerical Association, Ishaq Mir PPP and Asif Rashid RSF also addressed the gathering. Speakers shed light on how there are absolutely no rights of Workers in the private sector and How it is impossible for them to survive in 16 thousand rupees per month in this inflated economy. Demand for raising minimum wages to the equivalent of the 1 tola gold price was put forth. Budget Cuts in Education and Health sector will cripple the working class and will rip them off the right to a decent life and shall not at all except. Dr Nafisa Shah while addressing the workers said that privatization is not in the interest of workers and reassured the crowd that their voices sal be represented in Parliament. Privatization has pushed this country in turmoil. Nationalization was and is still correct but the corrupt bureaucracy of the institutions has destroyed them and now they are trying to blame workers for it. She added workers today will have to unite in this fight against capitalism. In the end, Saraj Gull Khattak President People's Bureau Attock put forward charter of demands for private workers and gave a deadline to the administration and If demands are not met there will be serious consequences.
Kashmir
Jammu Kashmir Students Federation (JKNSF) and Pakistan Trade Union Defence Campaign (PTUDC) organized different program, rallies and seminars on the occasion of May Day at different locations of Pakistan Held Kashmir including Muzaffarabad, Rawalakot, Palandri, Kotli Holar, Hajira, Bagh, Barian Pachiyot and others.
Muzaffarabad
A May Day commemoration rally was taken from Upper Adda to CMH Chowk under the banners of  JKNSF and PTUDC. During the rally procession, marchers were chanting slogans against unemployment, Inflation, expensive education, capitalist exploitation and privatization. They were are chanting slogans to pay tribute to the struggle of Chicago martyrs. "Asia is RED!", Red Salute to Chicago Martyrs!" and "Long Live Socialist Revolution!" were among the most chanted and responsive slogans. Amjad Butt from PTUDC, Khawaja Jameel from JKNSF, PTUDC District Organizer Awais Ali, Joint Secretary Secretariat Union Tariq and Central Vice President JKNSF Murawat Rathore spoke to the rally.
Rawalakot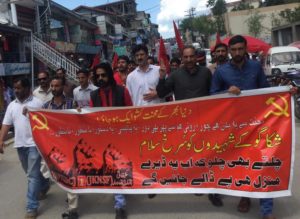 JKNSF and PTUDC organized May Day Rally started from College Ground that transformed into a mass meeting at Katchehri Chowk. Where Haleem Sajid from PTUDC, Editor Azam Altamash Tasaduq, Saad Ul Hassan from JKNSF, Usman and Daniyal from Kashmir University and Chief Organizer JKNSF Taimur Saleem spoke to the rally. Later the representatives of JKNSF and PTUDC joined PWD Workers Union's ceremony to express their solidarity with workers. President PWD Workers Union Iftikhar Shaheen, Senior Vice President APCA Imtiaz Khan, JKNSF leader Basharat Ali, PTUDC leader Haleem Sajid spoke to the audience while paying tribute to Chicago workers.
Kotli
May Day ceremony was held at Holar, a nearby town of District Kotli, in the collaboration of PTUDC and Holar Karot Labour Union. More than 250 workers from different institutions joined the ceremony with revolutionary zeal. President Labour Union Haji Rasheed condemned the CPEC imperialist project in his speech, he said the project in-charge Mr Long dismissed 1st May holiday and warned the workers with the suspension if anyone takes the leave on this day. The participants paid tribute to Chicago martyrs and vowed to hold a labour convention in the coming days. Bashir Pahelwan and Khalid Abidy from PPP, Iftikhar Hussain from Labour Union, Babar Mangol, Rashid Naeem, Masood and Yasir Khan from PTUDC spoke to the audience and stressed upon the unity of workers to struggle against capitalism for the socialist transformation of the society.
Hajira
JKNSF and PTUDC took May Day rally from college ground and after strolling the city transformed into a massive public protest at Main Chowk. Former Chief Organizer JKNSF Tanveer Anwar, Chairman Study Circle JKNSF Arslan Shani, District President SLF Naveed Showkat and JKNSF leader Osama Pervaiz were among the other speakers of the event. While JKNSF leader Sadam performed the duties of stage secretary.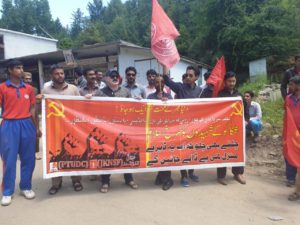 Barian Pachot
A PTUDC and JKNSF led rally joined by PWD Workers Union and Local Traders Union at Barain Pachot. At main square former Secretary General JKNSF Khalil Babar, Former President Traders Association Hameed Sheikh, PTUDC leader Zulfiqar Shabbir, Social Activist Khalid Bashir Asad Anwar from JKNSF and Shahid Akbar from PTUDC spoke to the audience.
Bagh
JKNSF and PTUDC organized a seminar to commemorate May Day. Central President JKNSF Abrar Latif, Senior Vice President Rashid Baghi, and senior leaders of JKNSF including Adnan, Zahid Arif and others spoke during the ceremony.
Palandri
Pakistan Trade Union Defence Campaign (PTUDC) and Pakistan PWD Workers Union organized a rally and mass meeting to commemorate the International Workers' Day. The rally started from Palandri Rest House and after strolling the city re-joined other workers at Rest House and transformed into a mass meeting. Apart from PTUDC and PWD Workers Union the leaders and workers from the Technical Employees of Electrical Department, All Pakistan Clerical Association (APCA), Forester and Forest Guards Association, School Teachers Association and the students participated in the program. PTUDC also established a bookstall containing Revolutionary and Marxist literature that received an enormous response from the participants.
The representatives of the participating labour unions spoke to the audience, they paid tribute to the Chicago martyrs. The message and lessons of 1st May 1886 are to struggle and fight for rights, and still the only way to end the misery of the working class is to fight this exploitative capitalist system, they said.