By Revolutionary Students Front (RSF)
It's been a week that the students of Peshawar University are on the struggle for the rights, and the sit-in protest still continues. Even after a deadly terrorist sucidal attack near the university premises, the morale of students is much higher.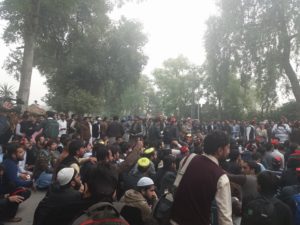 On 27th November 2017, students of Peshawar University staged a protest in front of VC office for approval of their demands. Under the united front MTM (Muthida Tulba Mahaz), that is comprised of different student organizations, students from different departments gathered in the new academic block at 10 am and chanted slogans. After that they walked to Administration Block passing through Peuta Chowk where they carried  protest. They said if their demands are not fulfilled they will continue their protest. The students camped outside the VC's Office. In this duration administration tried to negotiate with the leading students of MTM but all in vain. On 30th November VC issued a notice saying that the issue will be solved according to University Rules and Regulations but students rejected this notification and said if their demands are not met they will continue the agitation.
Students highlighted many campus-related issues as well. Corruption is at its zenith at Peshawar University, said a student. Many posts are occupied by a single professor. University funds are being used for personal interests. Many of the ineligible persons are given posts of 20th Grade. Students are facing hurdles at every step. Policies of university administration are never in the favour of students.
Students demands are as follow;
Cancellation of 10% increase in Tuition Fees
Restoration of Student Union
Improvement in Hostels' Infrastructure
Better Transport System
The minimum fee at Peshawar University is more than 30,000 PKR. Fees of many departments in Peshawar University are more than 60,000 PKR that cannot be paid by working-class students. In addition, the students also remarked that they are charged the extra fee in the name of examination fee, Internet fee and computer lab fee etc… Recent years students have faced government cuts in the education budget and they are continuing attacks on working conditions in universities. In almost every university of Pakistan students are facing fee hikes and the prevalent circumstances are pushing back working class students. Economic attacks on students have become a routine matter while the students unions are banned since Zia regime. Goverment policy of privatisation of educational institution making the situation even worst.
Indeed there is no large scale students movement and students are pushed back from politics. But it will not continue forever and students will have rise for their rights. That's why we can see student movements on regional level. We have witnessed that the QAU movements has defeated the administration. Students of D G Khan University are fighting, Sindh university students also rised voice against management and transportation issues. During the protest in peshawor university students are enjoying literary circles with musical nights and they are also discussing political issues.
Students dancing during sit-in;
RSF is standing shoulder to shoulder with the students. RSF appeal all the students from all over the Pakistan to show solidarity with the students of Peshawar University. RSF has the aim to unite the students on the basis of class beyond any race, ethinicity or religion. If the struggle of Peshawar University is succeeded it will encourage other students to fight for their rights. In the last analysis no reforms can be guaranteed in Capitalism. We shall fight for our Rights.